Base isolation systems are used to protect constructions and, more importantly, human lives.  25 years' experience allows TENSA to provide a solution to any design demand, producing innovative tools aimed at reducing the seismic hazard.
Key advantages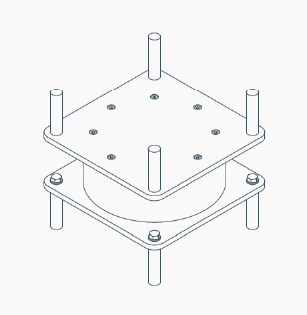 Reduction of the seismic response of the structure 
High protection of the integrity of the structure and of the internal parts
High number of dissipative cycles without observing degradation
A base isolated structure remains functional even after experiencing seismic events of high intensity
Systems available

TENS DAMPING RUBBER ISOLATORS - TDRI
The TDRI consists of alternating layers of elastomer and steel vulcanised together. These devices, characterised by a limited horizontal stiffness, are able to absorb the large displacements produced by the seismic action and to limit the horizontal force entering in the structure thanks to their energy dissipation capacity.
Request information

TENS LEAD RUBBER ISOLATORS - TLRI
The TLRI's are similar to the TDRI's devices in concept and production. TLRI are provided by one central or more properly distributed lead plugs (pure lead 99.9%) that changes the device behaviour from "linear" to "bi-linear".  This system makes the global damping in being strongly increased to a level nearby 30%.
Request information

TENS FRICTION PENDULUM ISOLATORS
The TFPI is a curved surface sliding isolator. The TFPI consists in a one or two primary curved sliding surfaces connected to a special hinge that allows the structure rotations. The period of the structure is controlled by the selection of the radius of curvature of the concave surface/s. The energy dissipation is obtained due to friction between a special material and the curved surface.
Request information